Yearning for Argentina; Yarning about Buenos Aires
M a x e d out on luxury treatment, we touched down in Buenos Aires.
Although questionable was our judgement of monetary value, there was certainly no questioning any lacking on the entertainment value front of the journey. There was that which was provided (your usual in-drive films), and that which we had become...
Very quickly it was revealed that our transport choice was not one for the traveller's budget - well, not ours at least. Allow me to conjure up a little image of the glorified box on wheels we'd embarked upon for you: Greeted on arrival by two impeccably dressed hostesses positioned either side of the double folding glass doors, we were presented with a selection of individually wrapped sweets. Reaching our pre-allocated seats (I say seats, armchairs is a better word) for the twilight ride, we gathered the complimentary pillows and blankets on offering to us and stowed our belongings. We kicked back, and the champagne arrived.
Having had every intention of slumming it, we were now convinced we'd somehow taken a wrong turn in the station and accidentally boarded the high-end bus, when we were absolutely not high-end customers. But drinking our champagne, the topic of conversation turned to our terrible attempts at vegetarianism in South America so far (a diet of essentially just cheese and bread throughout Brazil), and we agreed to make a collective effort to eat more healthily from that point on... And then came the shortbread. An appetiser to accompany our aperitif? Don't mind if we do, and not a moments hesitation to either (we'd paid for this).
Moulding ourselves to our heavily cushioned recliners the first film started rolling, and as we wondered exactly where we'd missed the cheap-seat tickets, dinner was served. (If we weren't turning down anything already provided, we weren't about to start now). You can imagine our excitement as a tray of food satellites orbiting round a hot-foiled wildcard were placed on our laps - total acceptance in total abundance of the lavish treatment available. But since falling victims to a downpour only hours earlier at the Iguazu Falls, we deserved it anyway, right..?
17 hours later, we were practically having to be forced out the doors. We'd taken very kindly
to the quality service on-board and would've gladly done another 17 hours, possibly even the week. Amazingly, it transpired that it wasn't through any fault of our own at all, but that transport just is that plush in Argentina. And as a heads up, the whole country will generally stretch your funds more than the rest of the South America will. But in fairness, it's worth it. Even just for a time, and even more so if you're travelling North to South because you'll have an even greater appreciation of their high standards. So to the best of our knowledge, your typical budget night bus travel you can get everywhere else on the continent, just doesn't exist here (unless you discover it does, in which case please do get in touch). So embrace it! It's an aspect of Argentinian culture that contrasts with the rest of the region and is just as much a part to experience as is the Tango, their wine and their steak.
Which brings me to our first taste of Buenos Aires, a literal taste: Argentinian steak topped with Chimichurri sauce (had to be) and an array of additional complimentary sides. None of which would've been complete without red wine of course - which by the way, if you don't finish, they will let you take away with you. Deciding that meat eating was at the very core of their culture, and not wanting to cause disrespect by not fully endorsing it, we followed the wise advice of a t-shirt hanging in the entrance to our hostel, selling as merchandise, with the slogan ''being vegetarian in Argentina is a huge missed steak'' printed across it.
Another notable South American delicacy is the empanada - from the Spanish verb empanar, meaning to wrap or coat in bread. Or more commonly known to you and I, the Cornish Pasty. So what better way to spend an afternoon than an empanada cooking class? I say cooking loosely, it was more of a creative shaping lesson. Which, as arguably the least skilled person in culinary expertise among most people, suited me preferably.. But you can be the judge of that (see below for mine and Sarvi's 'Wine Bottle and Glasses' edition of the traditional empanada). We'd been instructed to design something with a quintessentially Argentinian theme, I never said I was any good.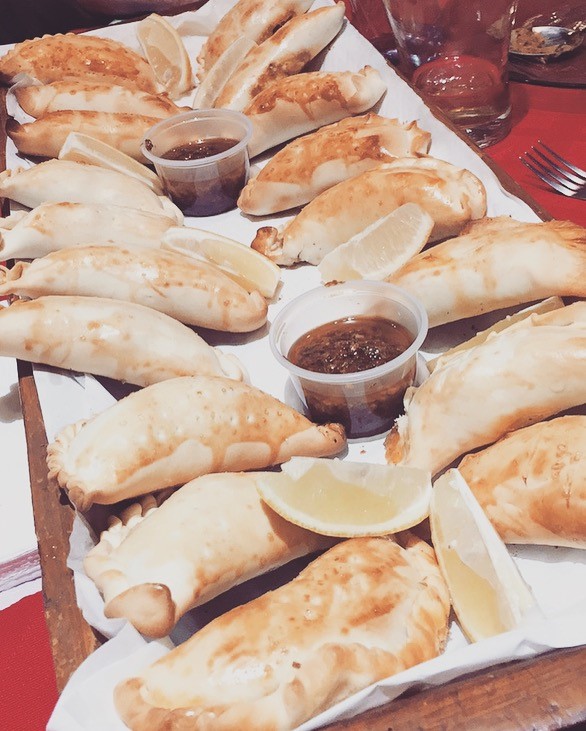 According to our Teacher Chef, empanadas are allegedly best in the nation's Northern provinces (such as Salta). Contest you may, though we found it a popular opinion in Buenos Aires. Further education into Argentinian culture came with the mate tea (pronounced 'mah-tay') made for us to enjoy afterwards. As a religious tea drinker myself, learning that the sharing of such is a social construct there, was a concept I warmly welcomed. Mate is drunk from a gourd (wooden or metal cup) filled with hot water, through a stainless steel bombilla (straw) and is then filled up again before being passed onto the next person. So expect invitation (and gladly accept) to drink this infusion of yerba mate dried leaves if you find yourself at an Argentinian gathering.
The empanada class was one put on by our hostel (Millhouse) so with friends we made in the
class, we headed out for some dinner down the road at Bernado's.. For more empanadas. We were joined by an older Australian guy who had heard us chatting about where to eat in the foyer of the hostel, and had recommended us this place. The intimate, family-run type of vibe about the restaurant, made for a cosy evening of traveller story swapping. I won't lay down his real name in case he didn't want the information disclosed, but he was known informally among us as ''Leg's'' following the very elaborate details he gave of an Argentinian romance he'd had - my favourite thing about travelling is the interesting characters you meet by chance, every day.
The beers kept flowing and later that evening we wound up at the sister Millhouse hostel more towards the centre of the city. A few more cocktails after that, we experienced our first
Argentinian club (I don't recall the name). The night escalated fast and to shorten a longer story, on our route back Molly vomited all over me in the taxi. Which subsequently made me do the same out the window, and then our friend Rich fell out the car. Needless to say the taxi driver was less than impressed... (Still so sorry).
For obvious reasons, the day that followed was a bit of a non-event (minus the inevitable task of a clothes wash - which luckily for us (and definitely not for them) is a service provided by the hostel - once we'd finished arguing over who had to take on the embarrassing role of handing it to the reception desk and agreed on Molly, that was). Unable to even roll in my bed, turning my head hurt that much, I held out for 5pm; my usual turn around time when hangovers got bad..... I should be so lucky. Try, elevenpm. That was the eventual turn around time, after yet another food hunt-down.
Deciding that what we really wanted was some vegetable goodness, we tracked down the only Korean restaurant in the entirety of Buenos Aires in search of stir-fries. And only a 20 minute walk! I'm not usually a ''woe is me'' type of character, but that 20 minute walk was the hardest and longest enduring 20 minutes of my life. Having reasoned that the air, exercise and potential for nutritious rejuvenation at the end of the trail were motivating factors, it took me all of about 30 seconds to start seriously questioning my judgement. It was torturous, and I looked the picture of it too: at a loss of any slightly warm clothes, with everything alike in the wash, I was forced into a socks & sandals combo paired with a hoody that wasn't even full in length (again, who knew Argentina was so cold in June!?).
Clutching my 2 litre bottle of water with desperation at my fingertips, I wasn't feeling overwhelmed with joy when we reached the restaurant doors, I'll be honest. But miraculously, apparently praising my efforts, my body began to cure itself (well overdue). So the trek paid off, which I was deeply grateful for; Rich is Korean, so with his insight we were able to order authentic Korean dishes that we wouldn't have known about without his company - not something I would've wanted to miss out on. And the food was amazing. I felt reborn.
Recovered, the next day we continued with our food-themed tour of Buenos Aires. This time it was grilled cheese. The sun beamed down over La Boca, the air that crisp, spring-like freshness, as we wandered along the famous Caminito, densely lined with artists and tango dancers. One particular artist, Guillermo Alio, tango dances and paints.. With his feet! I have a bit of a thing for collecting postcard-sized artwork that depicts things typical of a place, so with one of his creations, he provided my Buenos Aires edition. To make it extra special, he asked me to sign the back so he could draw a tango-dancing pair around my handwriting, in around 1 minute flat. Incredible talent!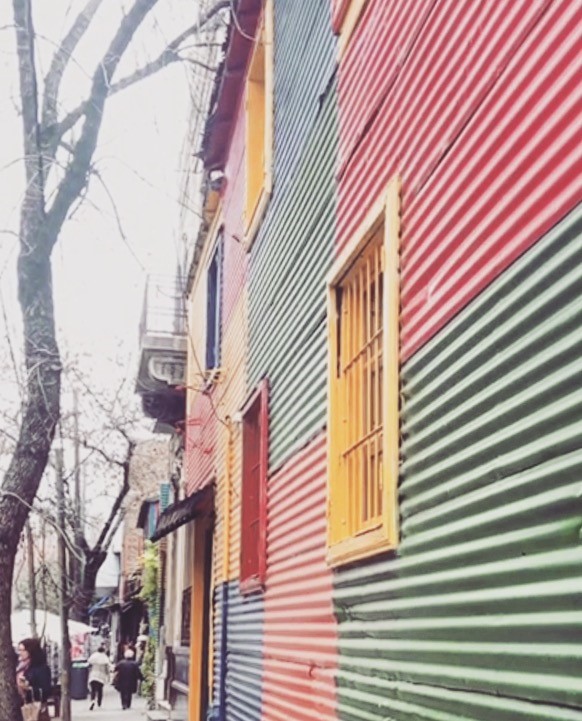 Riding a hunger wave and a little on the cold side, we searched for a lunch spot. Following our noses, we located the scene of the BBQ fumes which fabricated the street. Met with a selection of herbal teas, we took up a seat to thaw out and awaited the arrival of the grilled cheese eagerly. As did a golden coloured Husky sat beside us, with adoration in his velvet, brown eyes - those inevitable pleas for our food were going to be tough to ignore, we thought. Behind us was the idyllic, rustic display which hung greenery, wine crates and fairy lights prominent against their red-brick backdrop. A loud clunking drew my eyes away from the wall toward the iron gated entrance of the place, about 10ft from where I was standing: A freight train. Right through the heart of the town. I watched in awe as each and every container went by, it must have taken about 5 minutes for the entire thing to pass in total. With a surge of excitement for the authentic Argentina I was living, I checked back into reality and with that, the grilled cheese arrived.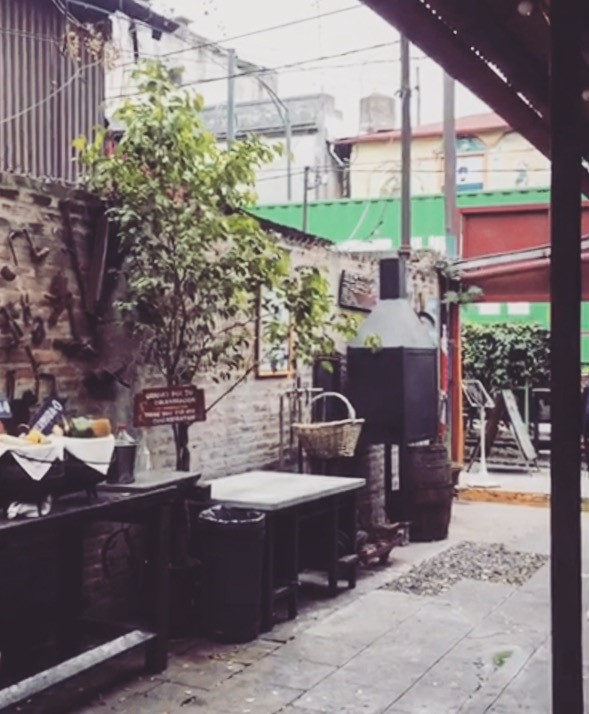 Later that day we stumbled across a hat store - and anyone who knows me personally will tell you that I really love hats, yet I admit they're not exactly the most traveller-friendly item. Still I revelled in an opportunity to window browse as a compromise. Back in England, I have my postcard keepsakes of my travels hanging on my wall, mixed amongst records. Again, not really a backpack essential, but the quirky record store with a 1950s disco feel about it, was a happy find nonetheless. Along the street, we wound up in a coffee shop in an area of town that felt very Western (the Starbucks directly opposite might've had something to do with it..). Buenos Aires can be a bit bizarre like that, one minute you're walking the brightly coloured Caminito, beside freight trains like something out of a film set, and in the next few steps you've travelled thousands of miles in Doc's time machine to Europe, Modern Day. But I remember there were postcards, there were hats, and there were records. And that they serve dulce de leche ice cream with your coffee. (8th Wonder of the World).

So, steak: check, Argentinian wine: check, check, check... Argentine Tango? We were getting onto it. Buenos Aires will leave you spoilt for choice when it comes to the Tango experience comprising a lesson, dinner and a show. None of which comes at a small fee however, and admittedly is an incredibly tourist-thing to do, but there's a reason for that. We definitely had fun. Millhouse provided such a package, and to make our decision simple, we bought ours through them. Taught to Tango before the dinner (with the certificates to prove it), we were able to enjoy the show that followed our meal in a new-found light (the spot-light, after being pulled up on stage at random), with a full appreciation for the dance.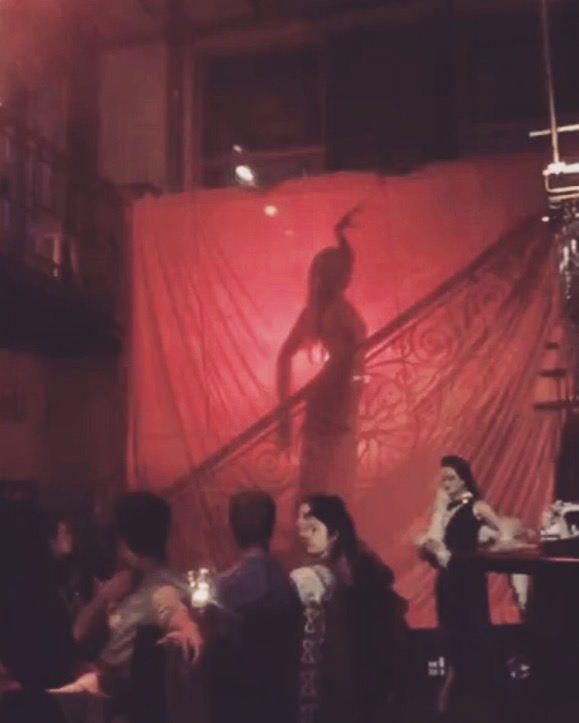 On what was supposed to be our last day in the city, we visited the Recoleta Cemetery. Words simply cannot explain the sight justly. There are not rows upon rows of tombstones, but street upon street of tombhouses.. And the occasional tombtemple. Far from your ordinary graveyard, it is a miniature town and a showcasing of the wealth and status of Argentinian families across history to behold (including the First Lady herself, Eva Peron).
To commemorate our time in Buenos Aires drawing to a close, we had our photo taken in front of the 'BA' hedges and stopped off at Bernado's for a coffee before collecting our bags back at the hostel. But our exit didn't materialise; bad karma got us and our taxi didn't arrive to take us to the station, so we missed the bus. Unbelievably though, and all credit to their high standards of service that we repeatedly received, the hostel moved us onto the same bus the next day, cancelled the hostel we were supposed to be moving to, and upgraded us to a private room, all free of charge. They even gave us complimentary cocktail tokens, which I still wasn't at a point of desiring, but appreciated the thought. A pretty sweet outcome from essentially being disorganised with our time.
With our extra day gained, we went to the Cathedral Metropolitana, where Jose de San Martin rests. ''Ego Vici Mundum'' is embossed above the altar, meaning ''I have overcome the world'', a message I found highly empowering. I have always loved the powerful impact that stepping into a cathedral has on me time and time again. Neoclassical architecture is the dominant style at the Metropolitana, something I feel to be extraordinarily grand, and the scale of which can be chilling, yet fascinating, as you think on the life in their millions before you that held that place as sacred.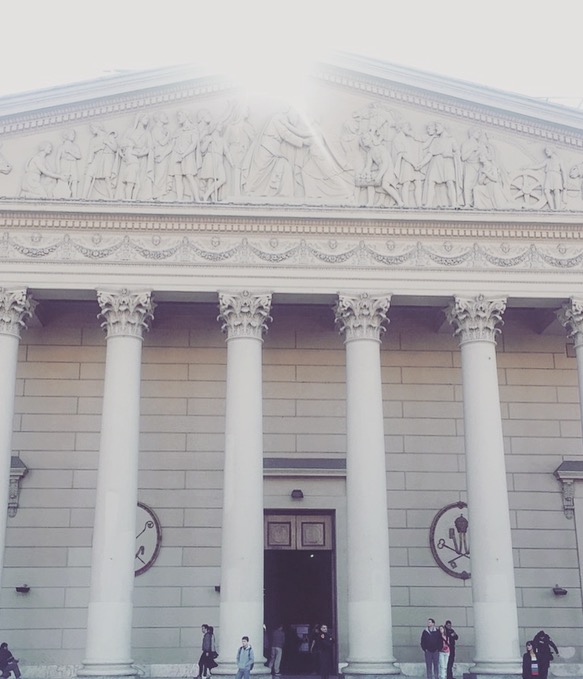 Making time to purchase some long-sleeved clothes ready for journeying to a higher elevation (we'd finally got to grips with researching the temperature of a place before reaching the destination - better late than never), we made a market-pit stop and picked up some more coffee (we needed to be on high alert to increase our chances of a successful Day 2 bus-catching attempt). My parting advice to you as I wrap this up, is to wrap up, if you go to Buenos Aires the same time of year as we did. Don't be fooled by the brilliant blue skies and sunshine.
Buenos Aires is a blend of Latin American and European culture, and for us, I think our love of it came largely from it being quite a reminder of home (but in a parallel universe). So it was sad to leave, but we were excited to travel on North to Salta, rural Argentina.