Yearning for Argentina; Yarning about Salta, La Quiaca and Tupiza
Passing by an entourage of red-caped horse riders, dramatic against their mountainous backdrop, our bus arrived in Salta.
We settled into a humble hostel, a hippy haven abundant in hammocks and hanging plants.
The catch? As it had been with almost everywhere we'd been so far - it was empty. Because (we now knew): low season.
Further insight as to why we were chasing behind 'high season' by about two weeks, came from discovering that the road from Salta to the Chilean border through the mountains, was closed for winter; buses weren't operating for too much ice. Which happens every year. (O, that common knowledge..).
Salta is an idyllic canvas of townhouses painted in multicolour. Although a popular bottleneck destination for travellers journeying onto Chile (just as we too had intended), the centre remains relatively untouched by foreign influence and for that reason has a real local community sense about the place.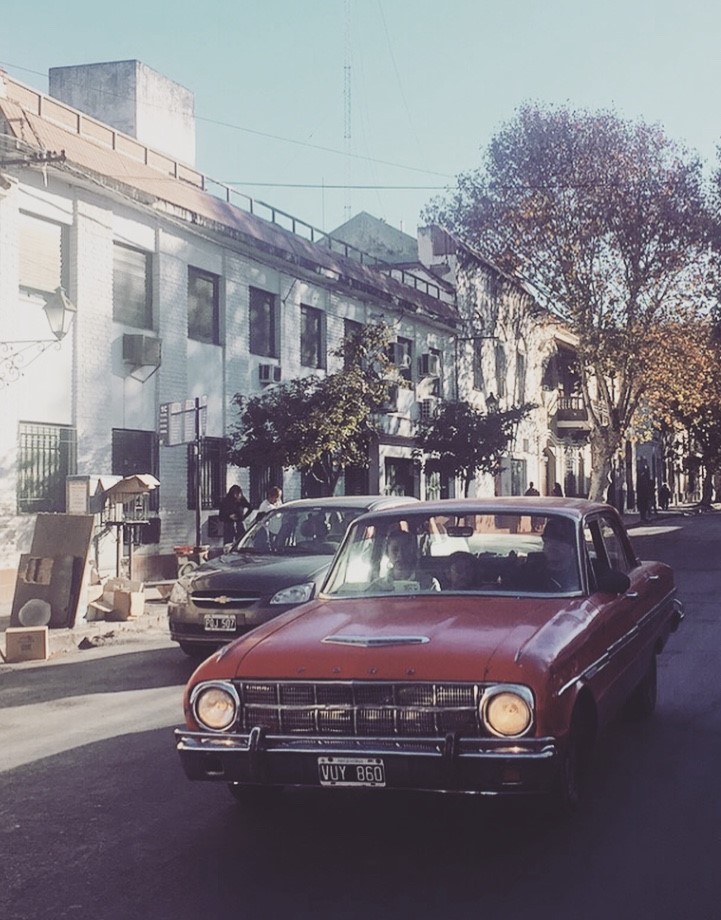 While basking in the glory of the sun shining overhead, we witnessed a religious street performance before exploring the Cathedral of Salta. I was transfixed by the black and white
illusionary floor, but our time inside was short-lived from the squeak my shoes were embarrassingly making at point of contact.
Deciding to make use of the cooking facilities with free rein to do so back at the hostel (and also for how much we'd axed through money in Buenos Aires), we searched for the ingredients of a typically simple and versatile culinary classic: The Omelette. Nowhere in Salta could we find eggs. Finding potatoes was also in our wildest dreams. Against our seemingly difficult
search, we settled instead for the king of all carbs (in my view, and stereotypically the Italians
also): pasta. The staple student kitchen skills we'd learnt from our university days were about to shine.
...They did, they flourished. And we had a new plan! We weren't stranded after all. Deciding to save Chile for 'one day', we opted (without choice) to head straight for Bolivia, via La Quiaca, so we could cross the border via foot the following morning. But first we had to get to La Quiaca - luckily those bus routes weren't veiled in ice sheets.
The setting of northern Argentina is much like that of a Western movie - the rural landscape rugged, comprised of dusty terrain and covered in cactuses. Said cactuses make for a spectacular desert-like scene, resembling what I had envisioned much of South America to look like, but were a little eerie from a distance. Lining the hills standing proud and tall, they could be mistaken for people on the hill. Kind of like the opening scene from The Italian Job, with the Mafia dressed in rounded hats waiting at the end of the tunnel...
Kind of.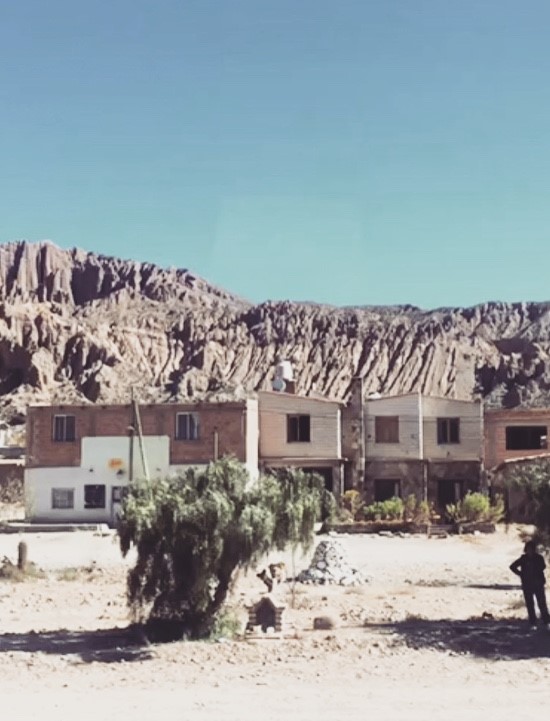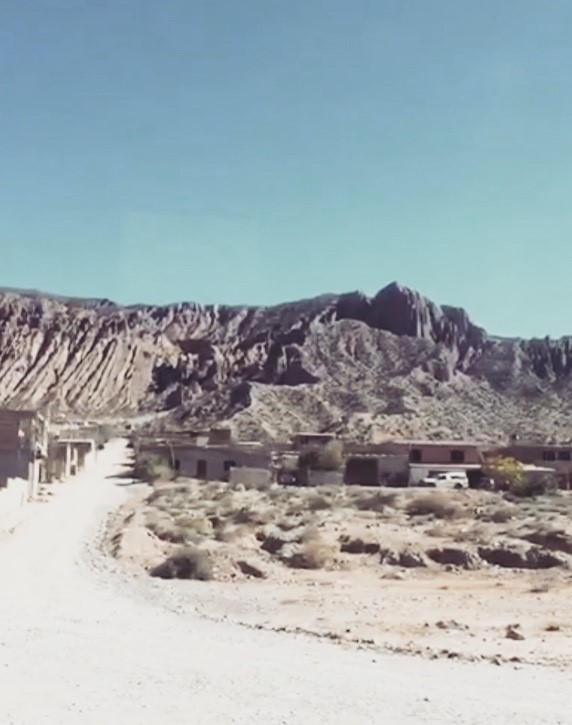 It was a sight I was grateful to witness in daylight anyway, I can't say my imagination would've enjoyed it much in the darkness. And we would've missed out on the Argentinian rainbow mountains. Off the bus once we reached La Quiaca, we instantly felt the temperature drop; the glorious sun behind glass was misleading. Still, we were pretty relieved to touch solid ground - Sarvi and I thought we were experiencing our first bout of altitude sickness. Either that, or it was just a really bumpy ride and we were travel sick. But either way, we weren't feeling too great.
We clambered into an old, rattling car to get us to the doors of our night's accommodation. And upon arrival were half delighted and half saddened by the sight of the fireplace; it was minus two degrees. Far from the tropical weather we had anticipated. Thankfully, we received almost hourly weather updates from excitable friends and relatives back home about the heatwave England was having, to keep our spirits high. Especially those from my own mama reporting that the summer we'd left behind by choice, was ''the hottest for twenty years.'' And that time frame being only three years short of my entire existence, is a big pill to swallow.
Fortunately, like a reptile, I'm contented by the feel of heat on my skin. So we happily settled for fire-hugging and den-making. Having initially been excited about the prospect of spreading the three of us out across two rooms (it was a villa/ apartment-like complex), we quickly realised that, for survival, we needed to be huddled. Tightly. We probably enjoyed the den-making a lot more than we should've, and I don't think it had much to do with how cold we were or desperation to warm up either.
Short of much to do in the local area, we spent the evening in the hostel's mezzanine kitchen cradling hot cups of whatever we could get our hands on, whilst playing cards and eating yet more pasta (apparently our new pizza). Our excuse: we needed to use it up before crossing over the border to Bolivia the following day. Because of the weight that is, not because Bolivia has some weird rule about illegitimate pasta importing... (at least I don't think?) Not that you're probably intending on doing, or are even fretting about. But to clarify for you. Anyway, it's amazing how long a simple card game can keep three frozen travellers entertained (and distracted) for. Hours.
Morning came and breakfast was served by the fire. There was dulce de leche (always a perk) and freshly squeezed orange juice (an unexpected perk), and then we were on our way. Hearing that the border can be a bit of an ordeal to cross, we were feeling a little dubious as we approached. But had no such experience; floating through with so much ease, we almost missed the passport stamp window. Walking amongst hoards of women carrying their days' trading loads in bundles across their backs, we were straight into market territory.
The array of huge Arctic-style puffer jackets for sale as far as our eyes would stretch was an undeniable warning sign of the expected temperature for our foreseeable future. We didn't have any such attire with us, but prayed this wouldn't be our last coat-purchasing opportunity as we bundled into a taxi to the next bus station. And at the price equivalent of about £2, it was a very cheap ride.
The confusion began when we were being ushered onto a bus two hours earlier than one we'd understood we would be taking. They told us that the one we'd paid for wasn't running and we'd have to board a different one instead, which wouldn't take us where we were going, but would drop us off somewhere along the way. Suspicious of the service on offering, but with no alternative and failed attempts to communicate via the Google translator app, we took our chances. Crowded with street sellers, military officers and the bustle of locals shouting 'vamos!', it wasn't a calming environment. Least of all for Molly, who was sat with an unclaimed goods bag at her feet. We had no idea where we were going, but we crossed everything and hoped. And still managed to fall asleep.
Tupiza was where we were trying to get to. It transpired the 'roadblock' they'd been trying to explain to us as the reason the bus wouldn't go to Tupiza was actually just a crossroad at which the bus we were on would turn a different direction, because it was headed for a different location. So we ended up hitch-hiking to Tupiza; we needed a ride - it was one road, but it would take us six hours to walk, by which time would be nightfall. And frequent taxi's were passing; it must be a regular thing to drop travellers along the roadside because the person who picked us up was running a mini bus service to and from the town.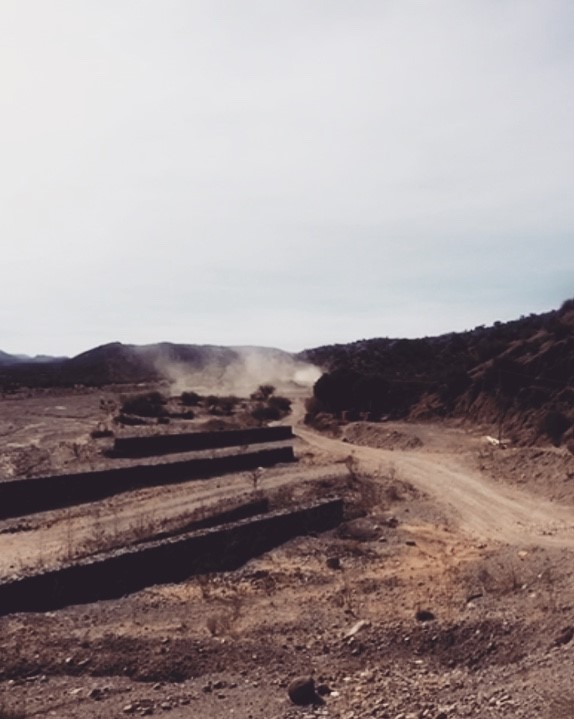 Eventually, we made it to Tupiza. And there's even more pasta there than there is in Salta; they have a whole shop specifically devoted to it (they are also home to some huge pineapples).We wandered around the market equipping ourselves ready for Salar de Uyuni. And that is where my beloved Big Red Coat entered the story, featuring in our photos from Bolivia a lot. We kitted ourselves out with boots, alpaca socks, gloves and scarves.
Fully prepared (surely), we began our drive to the Salts the following morning.