Yearning for Bolivia; Yarning about Salar de Uyuni
Possessions loaded and secured (not by us) into an unmissable bright orange tarpaulin atop of the cars roof, we hit the road.
We left Tupiza as the early morning sun was rising over the iron railway track lines, accompanied by an American girl, two French couples, our guide Oscar and our personal chef for the tour, Norma (an unexpected perk, and another monetary mishap on our part, which made our snack prep for the tour look excessive). Beginning our ascent into the mountains along a single track dirt road, grass tufts that resembled the trolls from Frozen lined the way, whilst luminous green birds flurried past outside, swooping the valley.
Journeying to a small settlement where we would ultimately stop for lunch, we sighted Llama's (to Sarvi's absolute delight; she is, I would go as far as to say, o b s e s s e d with the cuddly, dopey-looking farm animals). Viluyo was where we eventually reached, enjoying a lentil meal courtesy of Norma in one of the villagers houses, before heading back onto the road.
Leaving Viluyo, we picked up an indigenous, elderly Bolivian woman. She was returning from the remote village, to her even more remote home five Kilometres away
(still with three Kilometres to go). Trekking with her belongings on her back out in the literal wilderness at 4,100 metres (how is that for impressive?), she accepted our offer of a ride.
Unfortunately, we weren't able to converse in a shared language, but her warmth was greatly felt through her aura and through the invitation she gave us into the grounds of her home - proud to have visitors.
The place was idyllic in its farmland setting: made from mud, water and straw, protected by roaming Llama's. Living alone, she showed us a Quirquincho (Armadillo) shell she keeps to play for entertainment (the native animal instrument). Her remarkable health was in part credit to the natural remedy of the cocoa leaf - pictured below stuck underneath her eyes and entwined in her teeth, to reduce wrinkling skin and ease the effects of the high altitude (a Bolivian tradition). She has a rural way of living that is so simplistic and yet, is one of the happiest people I've ever had the pleasure of meeting.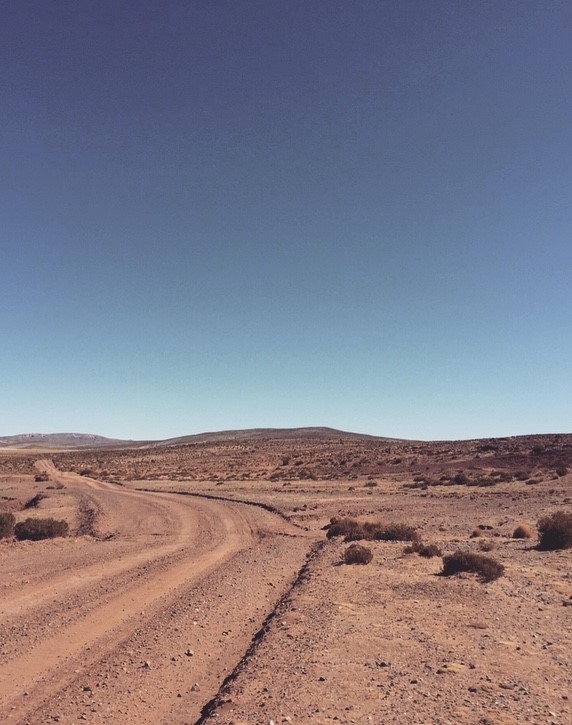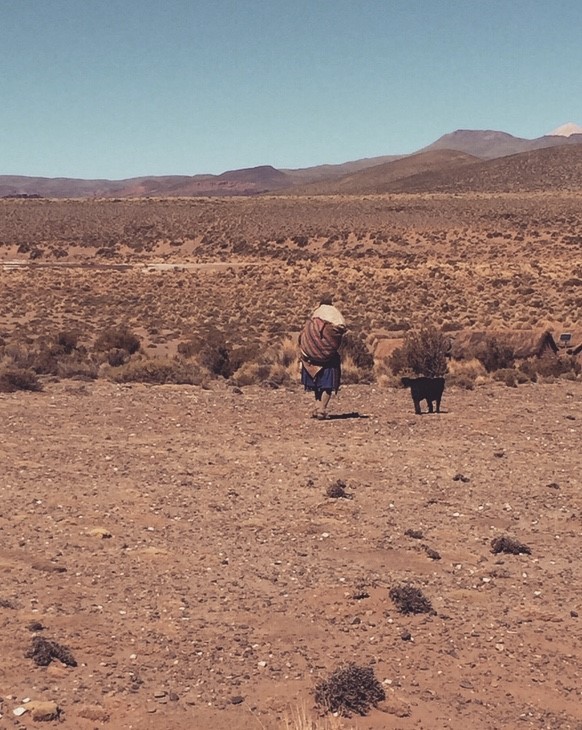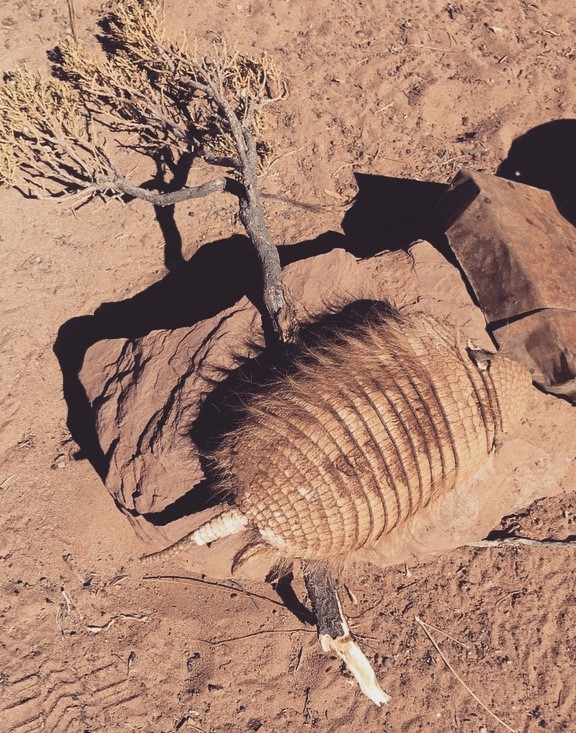 The two hour hike that followed only enhanced my respect for the Bolivian lady; the surface we were walking on was pretty flat, but it felt a lot tougher because of the altitude. We paced around what I can only describe as a baby sized Grand Canyon; a huge rock face with crevices formed through erosion that looked like fictional ghost illustrations. There was definitely a supernatural feel about the isolated spot, especially as it harboured a cathedral-shaped cave. We welcomed the therapeutic hot spring soaking at the end of the trail, sinking our toes into the natural sand-bedded floor.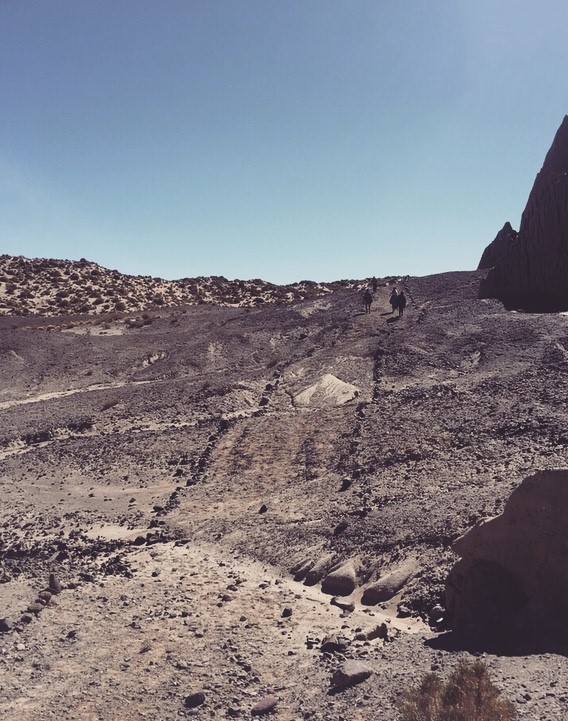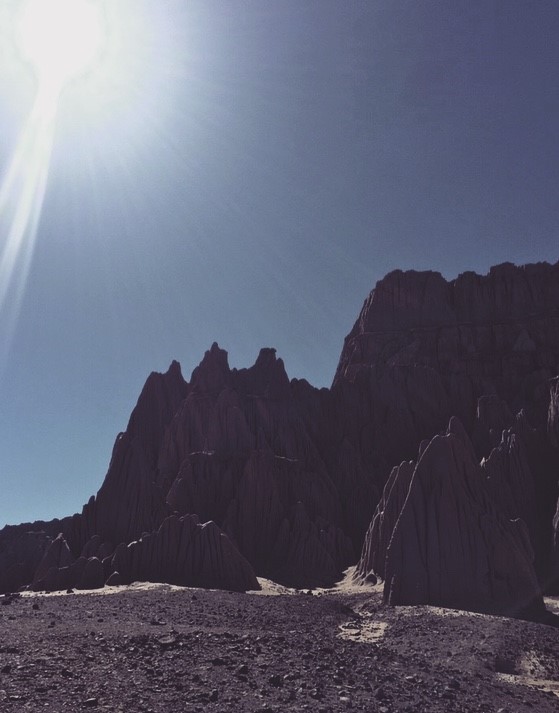 As we drove off into the sunset to the hamlet we were staying that night, Oscar distributed lollipops to the group and I sat in complete content reflecting on that.. And on the rest of the entire day.. But mostly that. Navigating our way out of the water-ridden route, we quite literally got stuck in the mud. Thankfully, Oscar had us four strong ladies on hand to push the car out and we were back on our way in no time.
We arrived to another farm of roaming Llama's as the sun was dropping away behind the hill. There we met another Quirquincho with amazingly piercing, bright blue eyes. Unlike the last, this animal was still in its shell but sadly was no longer alive. We continued on our way listening to Oscar's array of 80s soft rock ballads, making for a majestic ambience throughout the car as darkness fell upon us.
Reaching our accomodation, we glimpsed the powerful vision that is the Andean night sky the moment we stepped outside the vehicle. Never before had I seen such a clear sky and a view of the Milky Way so vivid. I felt like I was no longer on Earth, but had actually transcended
into space. It was so close, it was surreal.
Dinner was served; it was Llama. I couldn't eat it, but if you're curious, I'm told it tastes like bacon-flavoured beef. I didn't need to worry about going hungry though because dinner came directly after we'd consumed our bodyweight in biscuits and tea (there weren't any mother's around to tell us not to in case of spoiling our dinner). And for said dinner, Norma
had prepared three courses (Quinoa soap is a huge deal there).
Following the feast, feeling slumped and still very much frozen, we tucked ourselves into our rented sleeping bags (a decision we were relieved about when we saw the beds were piled three duvets high) whilst wearing everything we'd packed.
We were lured out of our cocoons at the crack of dawn by the promise of dulce le leche and bananas on pancakes for breakfast. Setting off by 8am, we watched as the tiny speck of land we'd inhabited for the night disappeared into an even smaller speck into the distance, out of the rear-view mirror.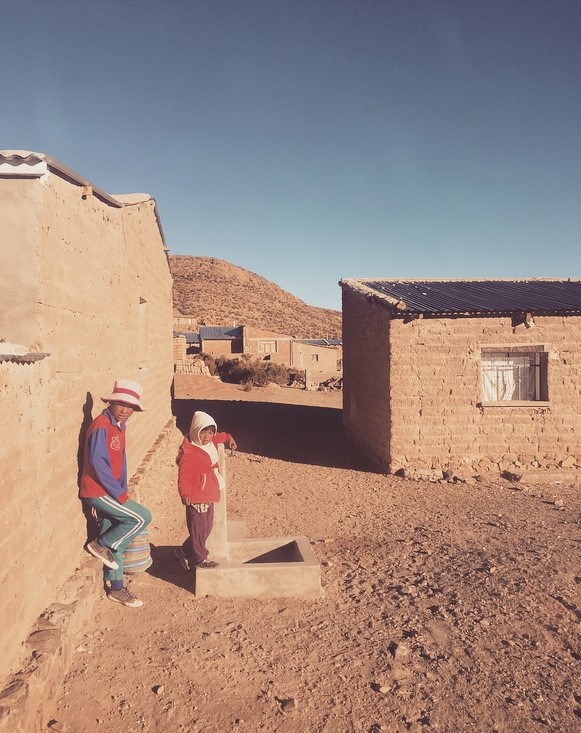 Reaching the San Cristobal Mine of Nor Lipez was a necessary refuelling stop-off, but mostly an opportunity for gawping at the 350 year old restructured colonial church because of its history. The entire town had been relocated when a mining company discovered they were situated below one of the largest silver mines, and agreed to move the church. Stone by stone it had been rebuilt, and restored to it's original site's form, appeasing the wide majority of the town who had been against destroying it.
The rest of the day consisted of Flamingo sightings, the Anaconda river, and a ''singing lady'' lava rock. The initial spot we scoured for flamingos didn't deliver, so Oscar encouraged we pose as flamingos instead. And we did. Once at the Anaconda river (named so because of its shape), a Condor was taking flight directly overhead as we took up seats for lunch
with a scenic view not at all typical of your average picnic.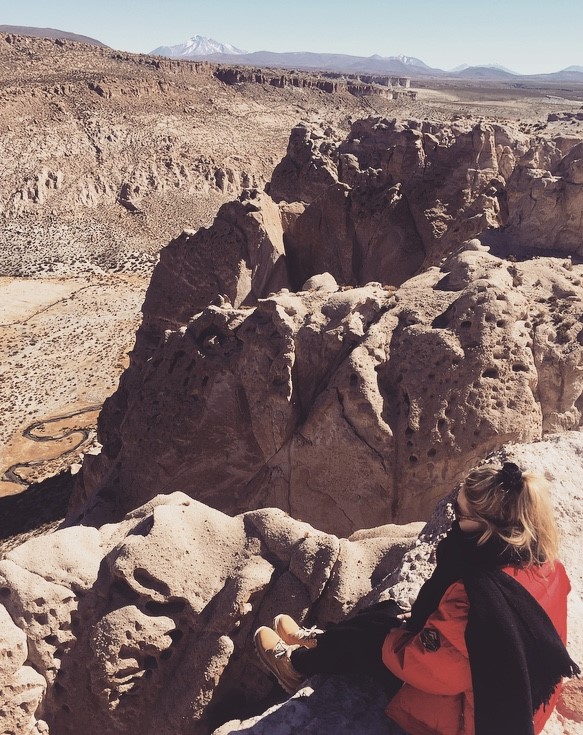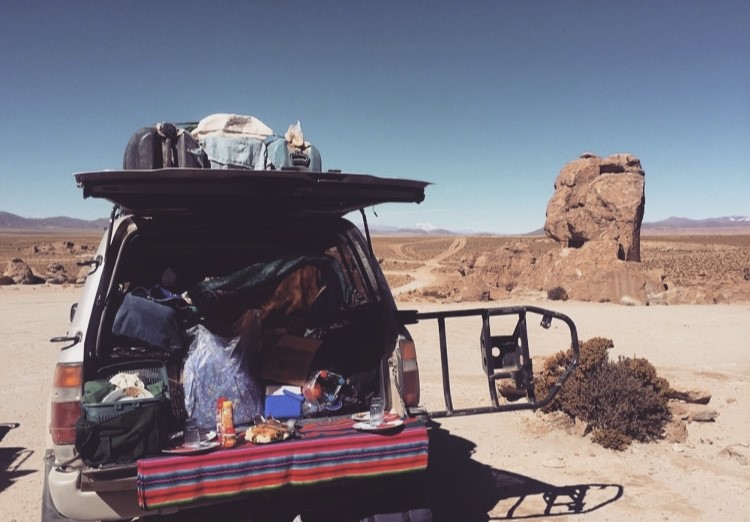 Defying myths of avoiding activity following eating, we nurtured our inner children by climbing over lava rocks before being ushered back to the car, like children. We then came across lava rocks resembling a camel, and the World Cup. Or, if you're Molly: A singing lady. Which was topically ironic considering most Bolivian's were constantly mistaking her for Shakira...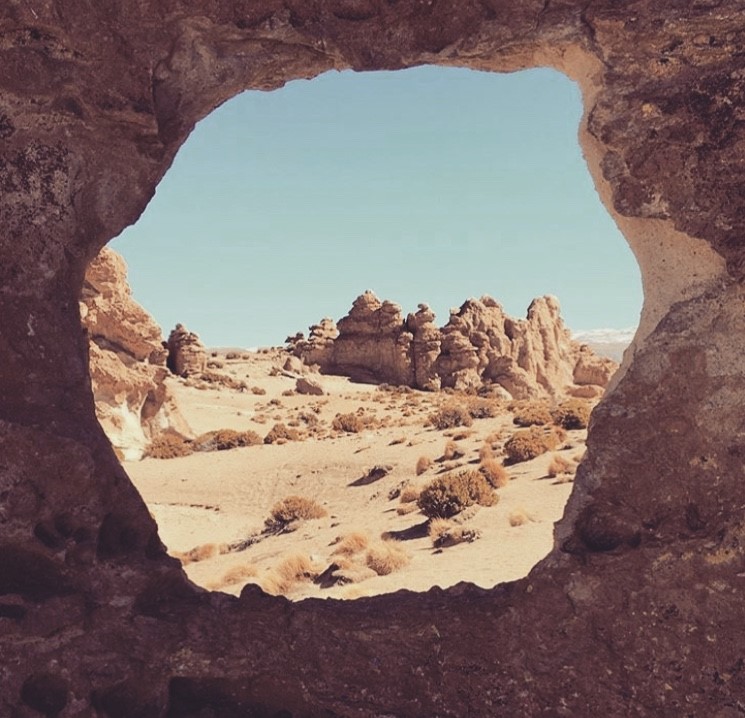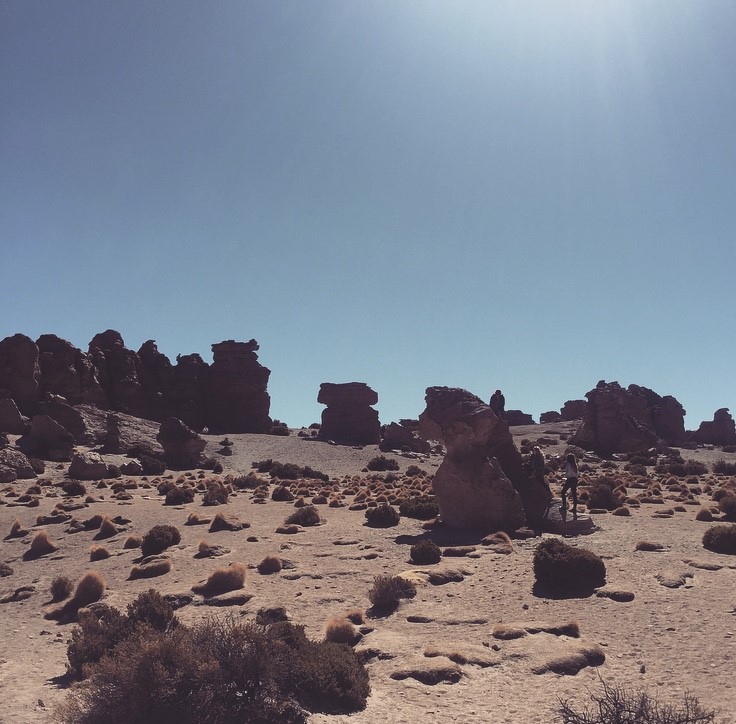 Day three came and we couldn't believe our luck - the sweet temptation of dulce de leche for breakfast again. And better luck with the flamingo sightings too; James's (Puna) flamingos scattered across Laguna Hedionda. Their fluorescent pink feathers and the turquoise water in which they stood, were vibrant strokes of colour prominent against the snow-topped mountainous backdrop. A beautiful frame, but probably even more admirable through glass, away from the overwhelming sulphur smell of the lake.
Driving by a semi-active volcano, we stopped to wish upon a cairn, continuing on to a much smaller salt flat than the big reveal we were anticipating the next day. There we played on the railway lines that are used to transport salt between Bolivia and Chile three times a week. And we thought we'd witnessed that transportation in motion, getting unwarrantedly excited (for its novelty) when a tiny carriage emerged from the horizon, thinking it was the train.. It wasn't. It was a maintenance train.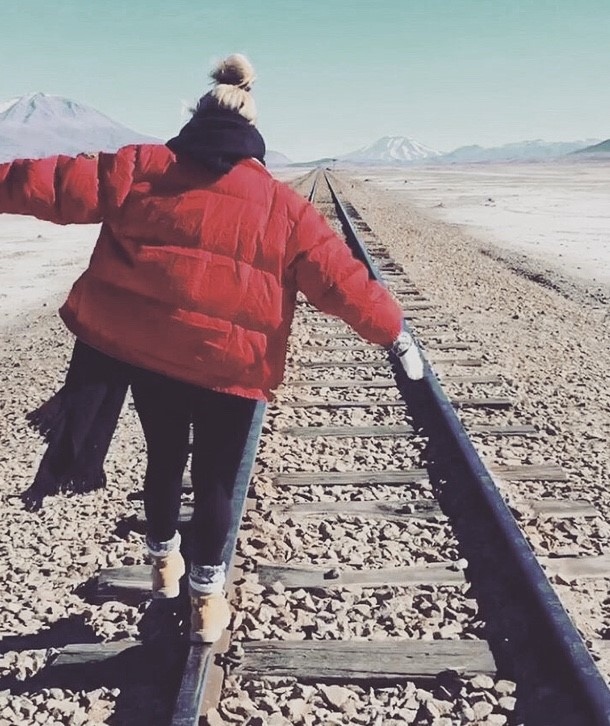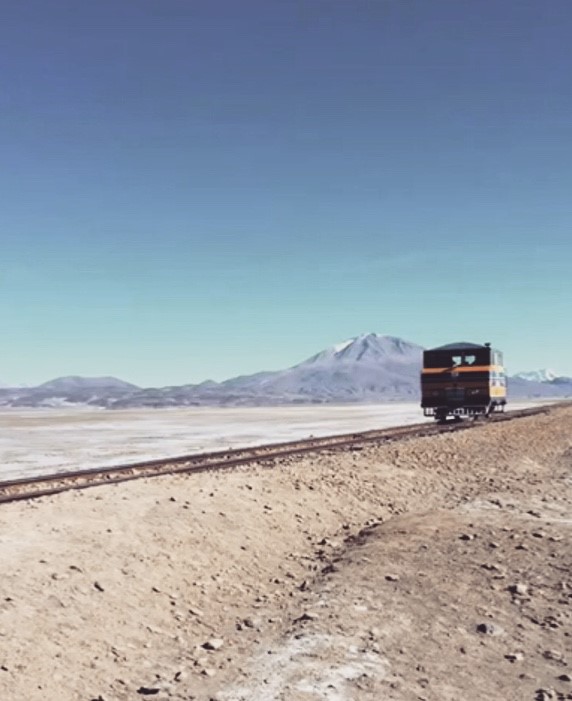 In other novelty though, for our final night on the tour we stayed in a hotel made entirely from salt (and proceeded to lick all the walls, to be sure). As the final day arrived, just when we thought breakfast couldn't get any better, Norma outdid herself; Al fresco dining on tables
and benches also made from salt, with dulce de leche on cake. Breakfast didn't arrive without earning it first though. We woke early to hike to the top of an island overlooking the salt flat to witness sunrise. And needless to say we all came down feeling very zen.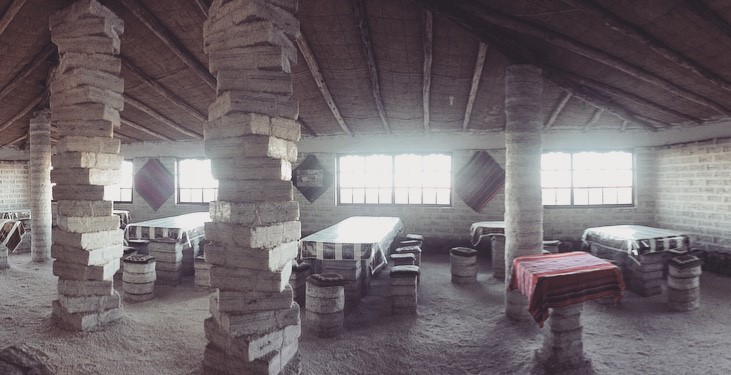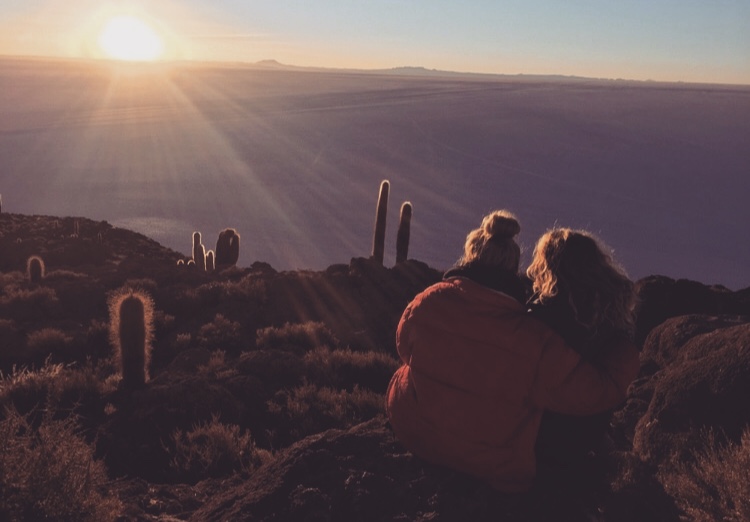 Our peace was soon disrupted by our play though; it was time for those stereotypical salt flat photos. I (now) know it sounds ridiculous, but I thought there was some scientific reason behind the people-size illusion, so I was gutted to learn that people only look shrunken because they've stood further back in the picture. A trick of the eye achievable anywhere in the world, and the only thing special about doing so on the salt flat was simply because it's a large expanse of open space. It did slightly take the shine off for me once I realised the obvious, but not enough to not get straight into endorsing the photo taking.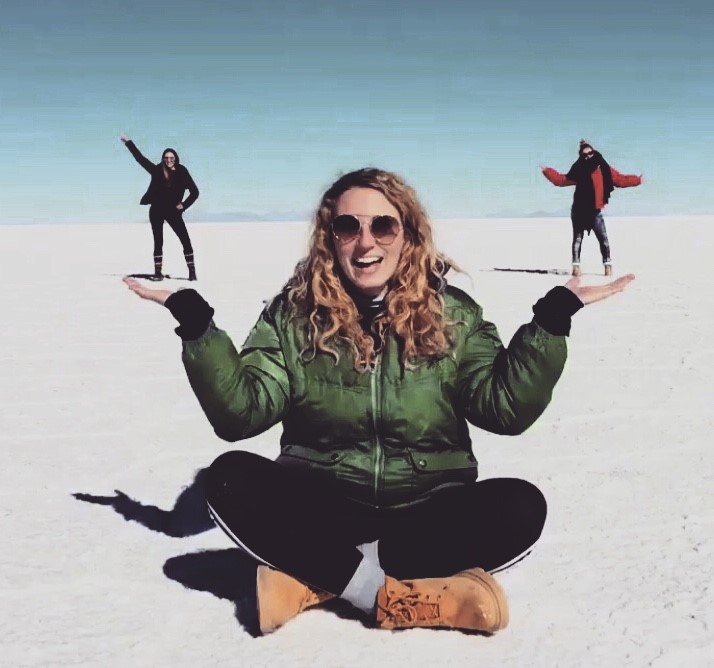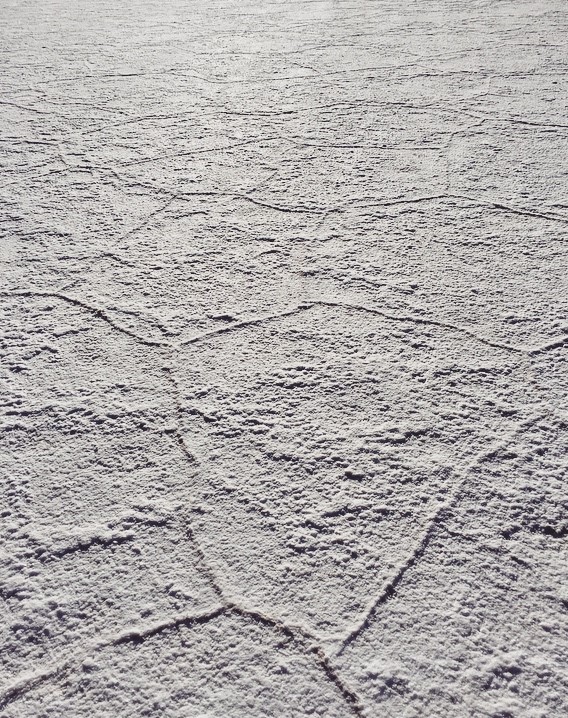 And for a final touch of adventure, for the sake of not contaminating the salt, if you need the toilet you'll need to get further creative. I recommend keeping hold of your empty water bottle, you never know when you might need it..
As the tour drew to a close, our final points of call were the first salt hotel (now a museum), a train graveyard and a visit to Kausay Wasi (a cemetery of coral tombs for indigenous people). We rounded off with an inevitable bath-salt purchase in the market beyond the salt flat - how could we not?
Feeling very connected, we sat in a quiet mexican cafe in Uyuni eating burritos, as we awaited an evening bus to La Paz.