Yearning for Brazil; Yarning about Iguazu
A fleeting 2 hour flight, and we touched down in Iguazu.
Allegedly, the best times to visit the Iguazu Falls are spring and autumn; the summer heat is intensely tropical, and the water level is lower than the rest of the year round in the winter...
We were there in winter. But that didn't take anything away from how spectacular the sight was; never before had I seen such an impressive water display in my life - totalling 275 falls, stretching 1.7 miles. We'd heard the rumours that the first reveal of the Falls is jaw dropping, only to get better and better with every turn until you're pretty much in the water by the end of the trail, engulfed. And it is true what they say, it did. Words simply cannot do what your senses experience justice, you must go there to take in the scale of the natural feature and hear for yourselves the booming sound of the gushing water in its tonnes.
.
On the Brazilian side you can go up the lift to the top of a waterfall, where the look of the churned up sand emerging over the edge, charging down the drop is reminiscent of the Lion King stampede (RIP Mufasa: gone but not forgotten). Reflectively, we moved onto the area of roaming racoons who were pausing between struts to showcase their stripy tales in extension, and taking run-ups along walls to jump trees. Through the fluffy myst, we arrived at a juice bar overlooking the feeder lake to the tan-dyed fall; an oasis of calm, in direct contrast to the thundering water that was only metres away.
We didn't last long at the juice bar though; we were under attack. I rephrase, Molly was under attack. By ladybugs. Hundreds of tiny yellow flies were taking to her tight curly golden locks as landing strips. And being not the most 'at one' person with animals, least of all not bugs, you can imagine her distress. Especially when they began attempting to nest in her hair (it's massive in humidity). But, they do say what goes around comes around, so maybe this was just her commupence for the videoing of my slide splat... (Yarning about Paraty). To add to her fretting, her bag was floral patterned, which they loved just as much as her hair (along with her yellow jumper). Despite tossing her hair into a bun amidst frantic debugging attempts by Sarvi and I, there was no denying that it was a losing battle, and we were forced to veto the purchasing of our fruity refreshments. We left the scene juiceless, accompanied by a newly traumatised Molly.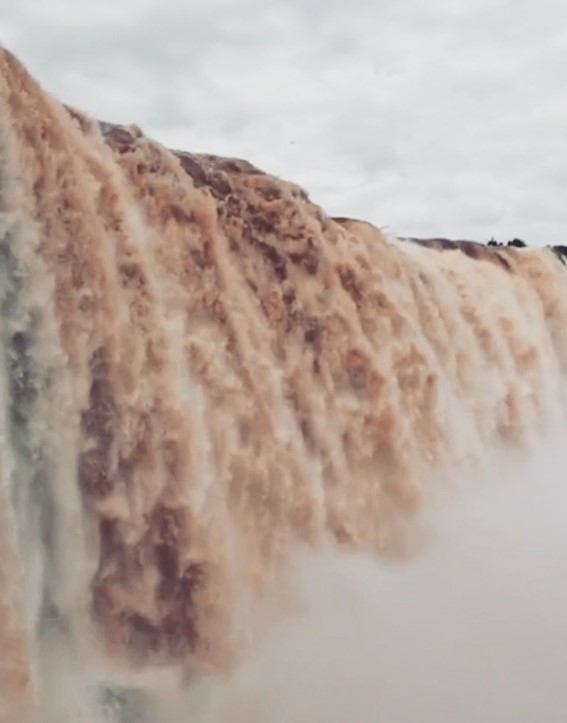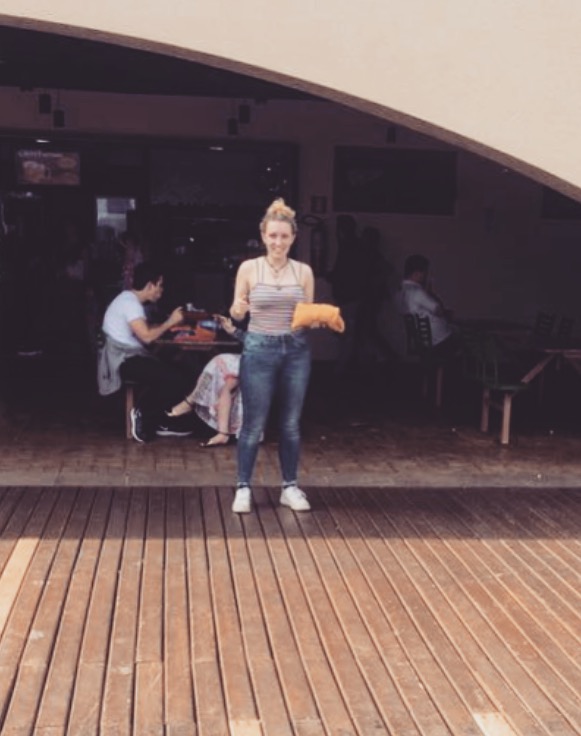 Retreating to Tetris hostel (made entirely out of shipping containers!) we settled in for a final night in Brazil - headed to Argentina the next day, starting with the Devil's Throat (the Argentinian side of the Falls). After hearing mixed reviews of the Devil's Throat, we were unsure whether it would be worth our while to visit, but having the time do so and wanting to experience both sides for ourselves, we went anyway.
...I seriously beg to differ that the Argentinian side of the Falls doesn't compete with the awe invoked on the Brazilian side! They are totally opposing sights; they are from totally different perspectives. Which, in my opinion, makes it a difference not to be missed out on.
In Argentina, you're positioned at the top of the Falls looking down, in direct contrast with Brazil; at the bottom looking up. I guess it depends if one viewpoint appeals to you more, but I found both equally spectacular. The Devil's Throat gives you an incredible panoramic view, allowing you to truly appreciate the sheer size of the Falls in all their glory.
As though timed to perfection (Thank You Universe), that same moment we reached the viewing platform edge, the moody sky overhead tore open with a deafening clatter and an explosion of light in the most dramatic unveiling of the drop. Literally phenomenal.
...But often with storms, comes rain (sometimes a lot of rain), which also sometimes means getting a bit wet (/drenched), as we did. And is why I have limited photos of such, incidentally.
Anticipating rain that morning, choosing to wear sandals so we would dry off quicker seemed like the right idea... At the time. But we didn't expect it to be quite so torrential, and ultimately reveal that our waterproof jackets were in fact, not waterproof. A squelch to our strides and resembling the appearance of drowned rats undesirably closely, we scrambled onto the safari train back to the park entrance with the other shower-struck venturers.
Given we were travelling on to Argentina that evening, we were fortunate to have all our belongings with us for a choice of changing clothes - not on us that is; they were stowed away in lockers, much warmer and drier than we were (although not hard to be at that point). Still, when you've packed for South America expecting tropical temperatures (as we discovered on multiple occasions that we weren't alone in..), having an array of summer clothes to choose from when you'd really like a thermal sleeping bag to climb into, is certainly character building. Great, should the sun turn up... But for the time, the best we could hope for was some clean socks.
And now, as I write this on Christmas Day, I feel it is appropriate to say that to Dad's everywhere: you don't know how blessed you are to be receieving those socks for a present today. You are loved.
I will say that we did have access to drying facilities that day at Iguazu however - our Saving Grace. And with that, probably made our entrance fee worthy just with the electricity bill we'd racked up collectively in the process. Even so, the layers of water were so deep set into my sandals I couldn't comprehend, so I accepted (yet far from embranced) my fate that the squelch was around to stay for a few days.
But slightly drier, and slightly warmer, we boarded the night bus to Buenos Aires.